TECHNOLOGIES OF COOPERATION AS A DECISION FACTOR OF MUTUAL COOPERATION
Aripov Nyatilla, Teacher of the 16th secondary school of Samarkand
Аннотация
This article discusses the use of collaborative learning technologies in educational settings and their impact on improving the quality and effectiveness of learning. This method is also used by a teacher, student, group of students, as well as the community to decide about interaction, to achieve consensus and solidarity, to achieve a common goal, to reveal the inner potential of each student, to express oneself as a person. It is suggested that this will open the door to greater opportunities for the entire group.
Библиографические ссылки
Decree of President of the Republic of Uzbekistan Sh. M. Mirziyoyev «On the action strategy for further development of the Republic of Uzbekistan» PF-4947 dated February 7, 2017 https://lex.uz/docs/-3107036.
Sotivoldieva D., Abdurahmonov R. Improving the effectiveness of education and the introduction of innovative educational technologies in the educational process is a modern requirement. Retrieved from: https://tsue.scienceweb.uz/index.php/archive/article/download/598/429/.
Muslimov N. A., Usmonboeva M., Mirsolieva M. Educational-methodical complex «Innovative educational technologies and pedagogical competence». Tashkent, 2016.
Usta-Azizova D. A., Mirzayeva Sh. R., Rahmonova Yo. R. «Educational technologies» Tashkent, 2019.Rustamova N.R., Clarify of basic concepts of vitagenic education. Proceeding of International Conference on Scientific Endeavors and opportunities, Hosted from Telavi, Georgia on 17th -18th March, 2021, www.econferenceglobe.com, pp. 177-180. https://papers.econferenceglobe.com/index.php/ecg/article/view/383
Rustamova, N.R., Vitagenic education and the holographic approach in the educational process. Таълим ва инновацион тадқиқотлар (2021 йил №1) ISSN 2181-1709 (P), 23-29. ОАК. https://www.interscience.uz/index.php/home/article/view/68
Rustamova NR. (2021). Issues of Development of Students' Media Competence Based on Vitagenic (Life) Experience. Journal of Physical Education and Sport ® (JPES),Vol 21 Issue 6, pp 2599-2616.
Ruzieva D. I., Rustamova N.R., (2021). Analysis of theoretical studies of the concepts of vitagen and vitagenic education. Таълим ва инновацион тадқиқотлар (2021 йил №4), 42-46.
Akramova L.Yu., Rustamova NR. (2021). Using the National Traditions of The Uzbek People in The Process of Students Teaching. Journal of Physical Education and Sport ® (JPES), Vol 21 Issue 6, Art 359 pp 2599-2616.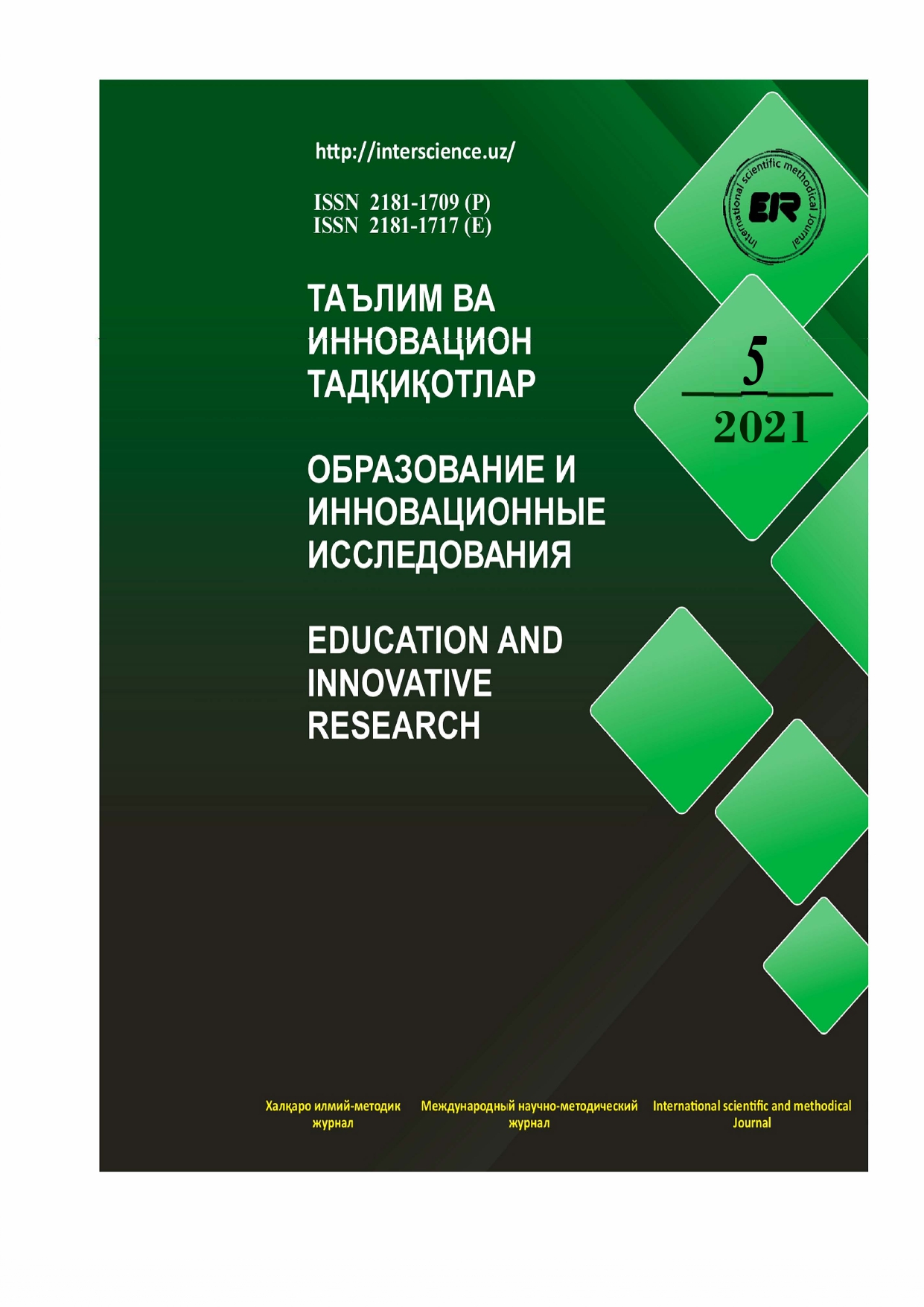 Загрузки